Recently, we unveiled the news that Facebook Messenger might plan on releasing a feature that would allow users to remove their messages from the conversation entirely. More so, there were plans on how this would be executed. Good news to everyone because just this month, Messenger released its new functionality of erasing or removing messages.
Fun Fact: This feature, according to Facebook, was only available to Mark Zuckerberg. Now, other Facebook Messenger users can utilize this specific feature.
As per CNBC, Facebook launched this new feature in their recent update last 12th of February 2019. Now, this functionality is something that can be useful in different situations.
Read: How To Auto-Save Photos You Receive In Messenger
How can you remove messages on Messenger?
If you are thinking that deleting is "for your eyes only," think again. Facebook designed it so you have the option to remove it only from your end or for everyone.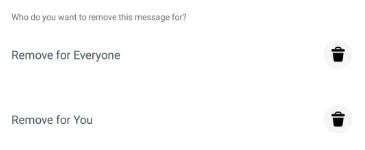 Removing from your end
This option will allow you to remove or delete a message and it will only appear on your side of the conversation. Meaning, even after you remove it, the person you are exchanging messages with will still have the chance to see your message.
Deleting or removing it from your end will be effective if you don't want to see that part of the conversation from your end. 
Removing for everyone
Unlike the option where you can remove a message from a thread from your end, removing a certain message for everyone will allow you to permanently remove a specific message for the person you are exchanging messages with or from everyone in the group. However, they will be able to see that you have removed a message and they can report it. 
To remove a message in Facebook Messenger:
Now, we will be guiding you how you can remove a message in Facebook Messenger. Firstly, you have to open your Facebook Messenger application on your phone or on your desktop.
Open a specific conversation; it could either be a personal message (PM) or a group chat conversation (gc).
Press and hold on a specific message and it will reveal the option to remove a message. On a desktop, you need to click on the three (3)-dotted menu icon.
Click on the "remove" option next to the message to remove the message from your end.
You can select or click "remove for everyone" if you wish to remove or delete the message that is seen by the other party and from your end. Deleting it from everyone ensures that the messages will disappear from the inboxes of people you sent them to and not just from your own perspective.
NOTE: You can only remove your sent messages from everyone within ten (10) minutes after the message has been sent/delivered.

As you can see in the photo above, the other party removed the message sent. The message was removed/deleted within ten (10) minutes after the message got sent. So, be sure to make your grand decision of whether or not you want to remove a certain message that you have sent via the Facebook Messenger.
Read: How to Enable Secret Conversations in Facebook Messenger
Can you remove a message that the party you are talking to sent? What things are allowed and what things are not?
Even if we wished for this to happen, this is not possible. You can only remove messages that you sent both from your end and to everyone involved. In conclusion, you are allowed to remove messages that you sent other people. However, with the new feature, you can also disallow them from seeing the message you sent.

So, it is imperative for us to know that:
The messages we can REMOVE ARE ONLY MESSAGES THAT WE SENT; we are unable to remove messages that the other party sent.
We can only remove a message THAT CAN BE SEEN BY EVERYONE WITHIN THE FIRST TEN (10) MINUTES WHEN THE MESSAGE WAS SENT. 
We always have the option to REMOVE  THE MESSAGES WE SENT FROM OUR END without a time limit.
This is going to be an effective tool in controlling what you and other people see in your conversations. More so, effectively using this new feature can lead innovations that would further enhance how we, people communicate and how we utilize technology.
Read: Customizing Your Facebook Messenger For Better Utilization
Who knew that the feature only available to Mark Zuckerberg will also be released to us users? This useful functionality will be used by people who are in dire need of it. More so, this, for sure, will be utilized by people when the time comes that they have to try to somehow undo something they have said through the Facebook Messenger program or application.