Nowadays, in just a tap of a button, you can do millions of things. From entertainment, to business transactions and purchases, it has never been easier. Just like other banks here in the Philippines, Security Bank also promotes online banking for smoother and easier transactions. You can deposit funds to another bank account, receive funds, do online transfers, monitor your account history, and many more. With  Security Bank online banking, you can do differnt transactions without the fear of operating hours eating you up.
How do I register in Security Bank Online Banking?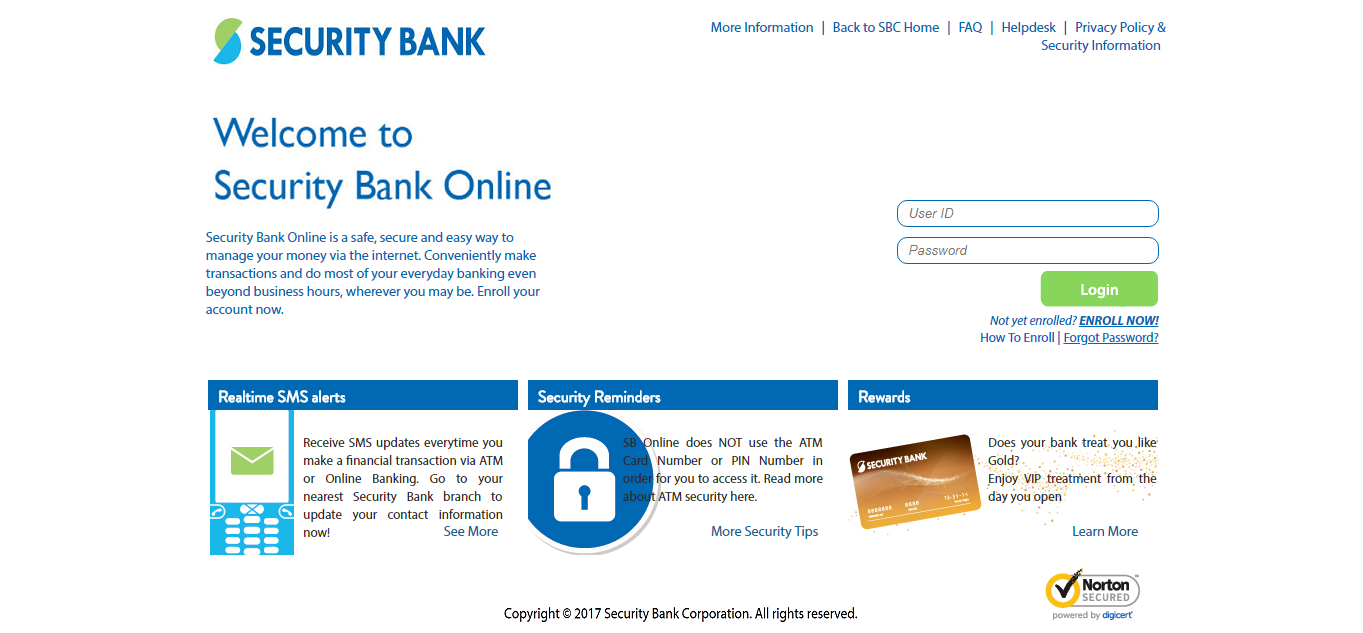 First and foremost, you need to enroll your Security Bank account. To do this, visit https://securitybankonline.securitybank.com/login. Once there, you will see User ID and Password fields. But of course, you don't have an account yet so look below at the ENROLL NOW! button.
Read: How to Register or Enroll to Banco De Oro (BDO) Online Banking
After clicking that, you will be asked to choose between the following: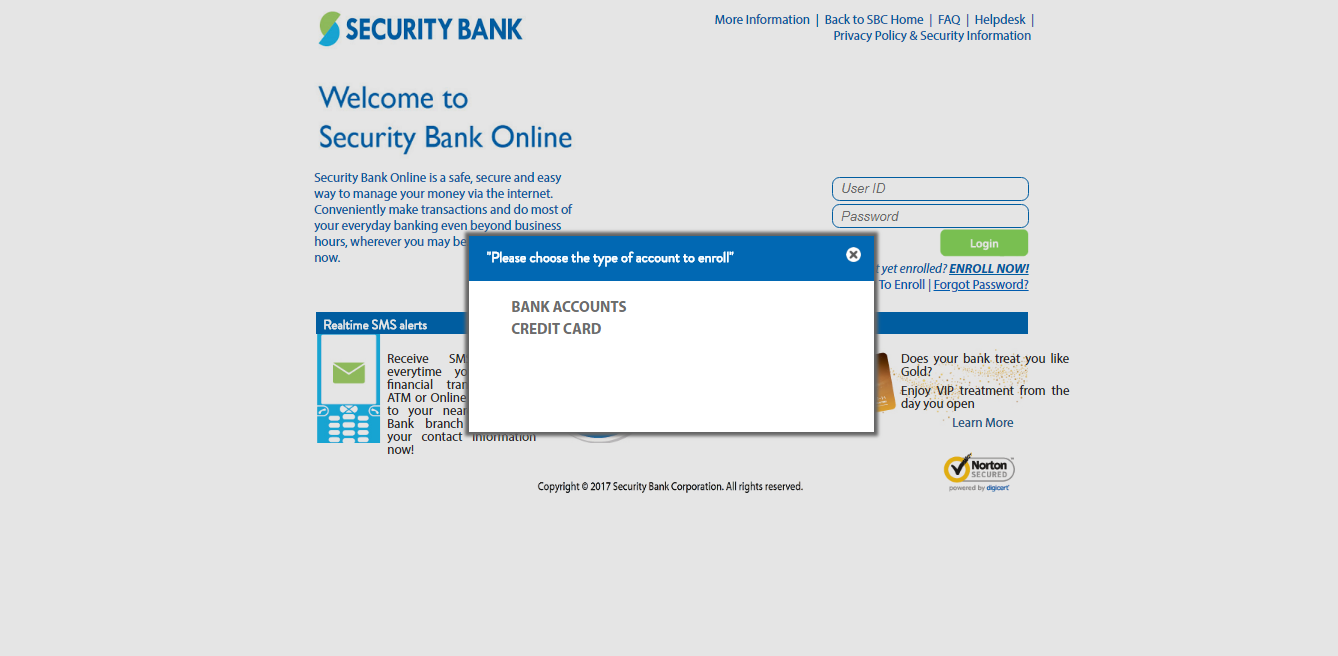 In our scenario, we need to select bank accounts. Afterwards, you will then be redirected to this page of the registration of your security bank online banking process.
You will be then be handed three (3) options:
By activating it through Enrollment PIN;
Through an ATM; or
By activating it through a preferred branch
For Enrollment PIN activation (through TeleBanker), you need to fill out the following information:
Account number (NOTE: Your account number is different from your card number; you can usually see this on the agreement paper or the paper that came with your ATM card). If not, you can see it in the email Security Bank sent to you for confirmation of the account registration.
Enrollment PIN (For forgotten PIN; unreceived PIN; or expired PIN, see the description below.
By activating it through an ATM: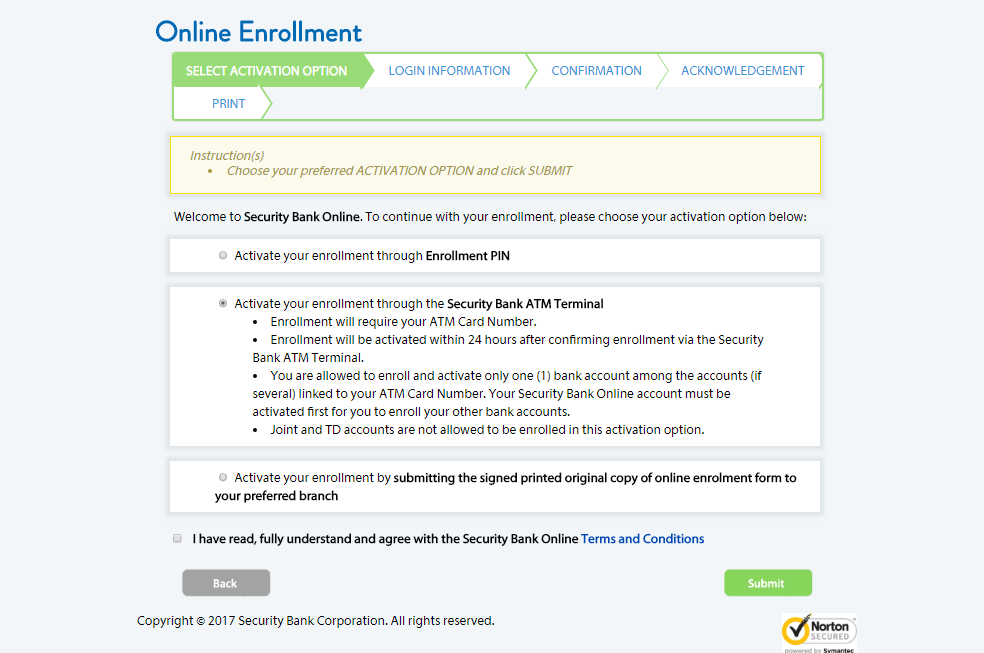 The enrollment will require your ATM Card Number;
Enrollment will be activated within 24 hours after confirming the enrollment via the Security Bank ATM Terminal;
You are allowed to enroll and activate only one (1) bank account among the accounts (if several) linked to your ATM Card Number. Your Security Bank Online account must be activated first for you to enroll your other bank accounts;
Joint and TD accounts are not allowed to be enrolled in this activation option
By activating it through your preferred branch: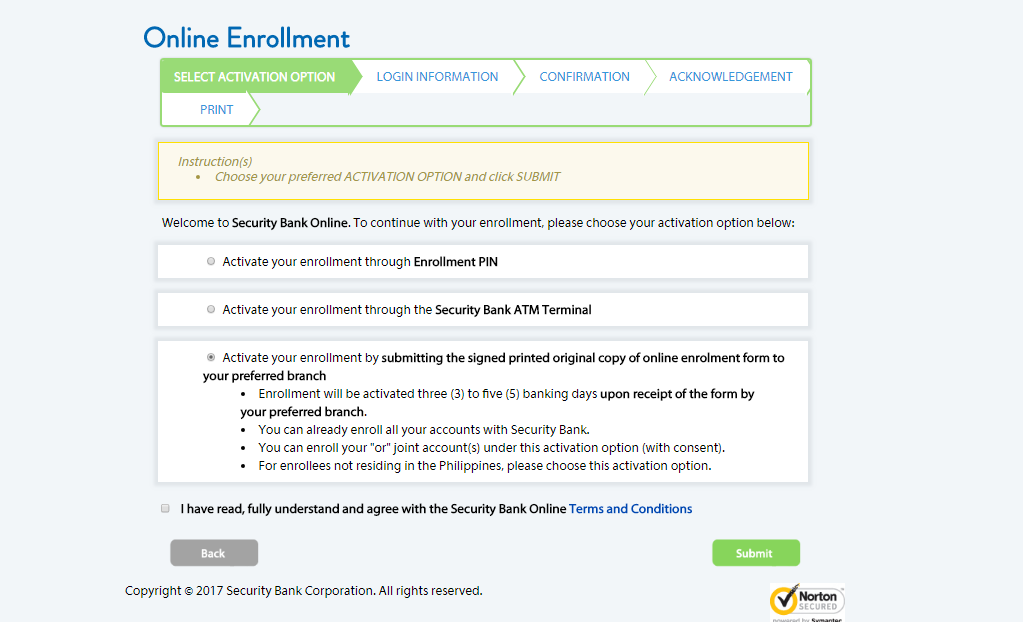 Enrollment will be activated three (3) to five (5) banking days upon receipt of the form by your preferred branch;
With this, you can enroll all your accounts with Security Bank;
You can enroll your "or" joint account(s) under this activation option (with consent); and
For enrollees not residing in the Philippines, please choose this activation option.
Read the Terms and Agreements before you tick the checkbox because it's important. Moreover, you need to ensure that all information you'll put in the activation, login information, and confirmation is accurate and 100% correct.
Read: How to Enroll on PNB Online Banking or PNB Net Banking
Duly accomplish the Security Bank Online Banking application form. Double check if all the information is correct because errors might cause delays.
For the following steps, it will actually be dependent on how your activation option is. Depending on how you're activating it would be the subsequent steps that you should accomplish.
You will then receive confirmation that your Security Bank Online Banking application is a success and that you can now use it. Although this is the case, you need to be careful in dealing with transactions online as well.