As you may notice if you're a fan of Pinoy Channel websites like Pinoy-ako.info, Phnoy.com and Webpinoytambayan that are posting TV show replays of the Philippine TV channel, these websites are not accessible right now.
The reason why these websites have taken down and remove online is the copyright infringement filed by ABS-CBN. If you try to access webpinoytambayan.com you will redirected to servingnotice.com page with the notice of the United States District Court where ABS-CBN filed a complaint against the two admin of the site.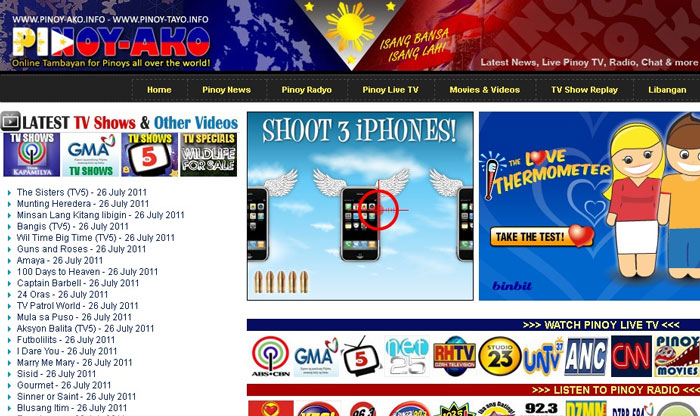 The websites mentioned above are allegedly infringing copyright when they are uploading and publishing ABS-CBN Shows and other copyrighted materials owned by ABS-CBN.
Copyright infringement is the use of works protected by copyright law without permission, infringing certain exclusive rights granted to the copyright holder, such as the right to reproduce, distribute, display or perform the protected work, or to make derivative works.
Now that these websites that you used to access if you want to watch your favorite shows are violating certain laws, you can still watch it using the official websites of ABS-CBN. You can follow the instructions on how to watch Pinoy TV shows online.
While the two Philippine TV Network GMA7 and TV5 have not filed any complaint against websites, publishing their copyrighted works still it is illegal to use other work to make profit from it.
Pinoy Tambayan and the like websites are becoming popular to Filipinos around the globe, particularly the Overseas Filipino Worker (OFW) because it's free and easy to access unlike the official site wherein you need to register and subscribe.