Just like the last time, Apple has launched two iPhones instead of one this year as well. While last year the other iPhone was essentially an older iPhone wrapped in a funky shell, this time they have made an entirely different device to accompany the iPhone 6. This other device is called as iPhone 6 Plus.
This is Apple's take on making a Phablet to compete with all the large screen Android devices out there. It has got a 5.5 inch display which is comparable to many Android phablets. The rest of the hardware and features of the iPhone 6 Plus are same as the iPhone 6. Now if you are considering this new iPhone, you might be wondering which one of these should you pick?
Design and dimensions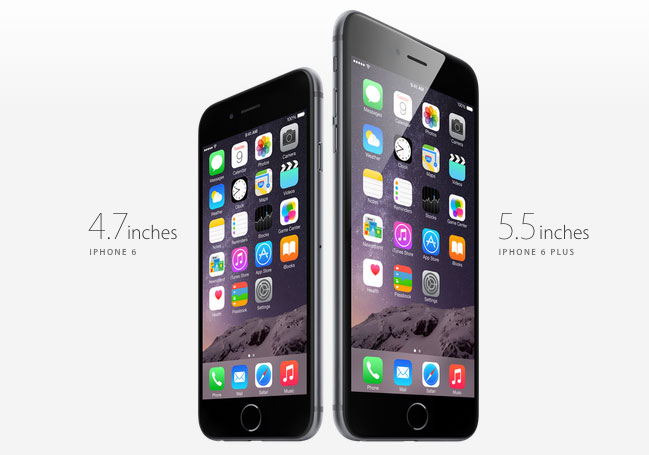 Gone are the sharp edges and the new iPhone 6 has got a rounded unibody chassis. You can choose colors from silver, gold or space gray. The Apple logo on the back has been carved out of stainless steel. So the Apple logo stands out in a sea of aluminium finish. It would surely feel nice to hold with the curved edges. It would be more durable than the previous iPhones as it doesn't appear to be made in many parts. The power button has been moved to the side from the top for easier access.
Read Also: iPhone 6 and iPhone 6 Plus side by side specs comparison
The size of the new iPhone 6 and iPhone 6 Plus is decent for the display size, though they could have reduced it even further. The iPhone 6 Plus with its 5.5 inch display has got dimensions similar to the Galaxy Note 3 or 4 but is a couple of millimeters taller. The smaller iPhone 6 has dimensions similar to the Google Nexus 5. Both the iPhones are very slim. The iPhone 6 is 6.9 mm while the bigger sibling is 7.1 mm thick.
Displays
The iPhone 6 comes with a reasonably crisp 4.7 inch display. It has a resolution of 1334 x 750 pixels giving a pixel density of 326 ppi. While it isn't as good as what you would find on the current crop of android flagship devices, it is still pretty good and you won't have any complaints against it. It is an IPS LCD display just like the previous devices so the quality would be impressive as well. The iPhone 6 Plus comes with a 5.5 inch full HD display. It was rumored to have a 960p display so the resolution you get is significantly higher than that.
The pixel density is an impressive 401 ppi which is higher than the iPhone 6. Both the displays got impressive contrast ratios and brightness values. Apple didn't say anything about the much touted sapphire display. Instead of that, they talked about the Ion strengthened glass on top of it. Some other sources told us that the Gorilla Glass protection that we find on every other mobile device is an ion strengthened glass only. Further tests would tell what the display material exactly is.
Hardware
Here both the devices run similar hardware and there is nothing to separate them in terms of performance. They run the Apple's 64-bit A8 processor with its M8 coprocessor. Both of them have got 1 GB of RAM. This time they have offered the devices with 128 GB storage as well. They have skipped the 32 GB option though. So now you get 16, 64 and 128 GB storage. They have added support for more wireless frequency bands and added a feature called carrier aggregation. This feature allows the device to use multiple bands at the same time so that it can have higher transfer rates. You also get Wi-Fi 802.11 ac support on these new iPhones.
Newer Wi-Fi routers support this band and soon we will see more devices working on the same allowing for faster data transfer rates. They have added a barometer on the new iPhones, although haven't said what use the device would make out of it. We saw android devices have this feature for quite a long time now. They have added NFC for the first time on an iPhone. With this, they are partnering with major banks and credit card companies. So instead of swiping your card and punching in your code, you can simply tap your iPhone and authorize using the fingerprint scanner. This feature would make use of the recently added NFC support.
Cameras
Both the new iPhones have got 8 megapixel primary cameras with a dual tone flash. While the resolution might not be very impressive, they have used a large sensor to allow for a pixel size of 1.5 µm. This would give decent pictures even in low light conditions. The true tone flash, as they like to call it, has been improved. Apple claims that there are new focus pixels on the sensor which would reduce the time it takes to obtain a focus.
Both these devices offer image stabilization and optical image stabilization, which has been added to the iPhone 6 Plus instead of software based image stabilization on the iPhone 6. This would allow for relatively better results on the iPhone 6 Plus, especially in low light as OIS would allow for longer exposure times. Both the iPhones can shoot full HD videos at up to 60 fps and 720p videos at up to 240 fps.
Verdict
Apart from these differences, there will also be differences in terms of software. With the bigger displays, these iPhones will support more features in the landscape. The iPhone 6 Plus can display home screen in landscape like on the iPad. If you are already an iPhone user and looking to upgrade, the iPhone 6 would be a worthy successor. The jump to iPhone 6 Plus would be a huge difference for any current Apple user as there is a 1.5 inch size difference. However, if you are already used to android phablets then you might consider moving to it. Also, it would be recommended if you mostly use your device for playing games, watching videos and shooting photos.