This article will show you how to capture full page screenshot online by using third party website available for free. You can easily save the full page screenshot of any website that you want, you only need to provide the URL of the site that you want to capture, no need for additional extension or third party software.
I will list down 4 websites that offering this service, you can visit them anytime you want, although some of this site will put your request in the queue while their handling more request still you can use them.
Easily capture full page screenshot from header to footer using this website, follow the instructions below.
Go to screenshot machine enter the website URL that you want to capture, set the resolution to full page, then click "Start Capture" button. When the status is done, click on the green "Download" button.
When you click download, it will open in a new window where you can easily right click and save the image, see the screenshot below.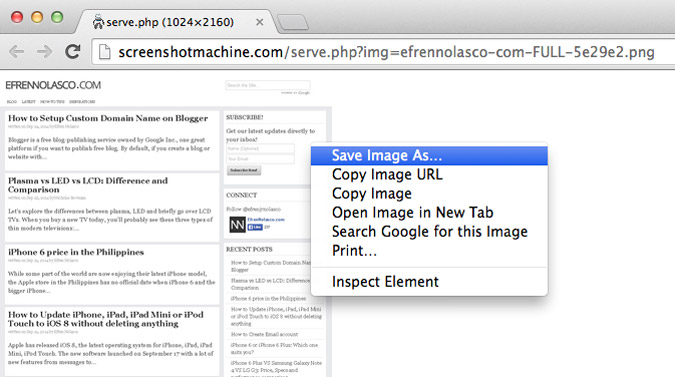 Another website that offers the same service is thumboo, they also host images for free, all you have to do is copy the code they provide just below the image and paste it where you want to appear. If you want to download the screenshot, right click on the image and save the image.
iWeb2shot also offer an online web snapshot where you can also save the whole page from header to footer, just go to the site and enter the URL that you want to save, select which size options that you want then click convert. It will generate an image with the file format you selected. To download, right click on the image, then saves the image.

As the site name implied this also provide the same service, to capture the screenshot of whole pages, enter the URL in the space provided, then click "Capture web page" button and wait until the processing finished.

When the processing is done, you have two options, to view the image or download it to your drive.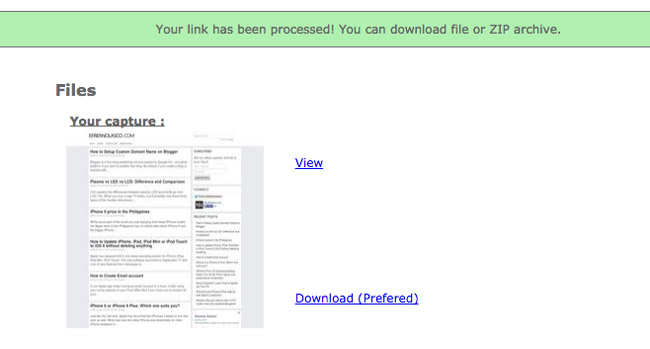 There you have it, you can now easily capture full page screenshot of any page that you want without installing any third party software. Enjoy!