Ecommerce has been booming in the market since the rise of Jeff Bezos' Amazon. As a matter of fact, millions of people prefer this than going to stores for a handful of reasons. As long as you have Internet access and a Smartphone that functions properly, you're in for a good trip. There are a lot of sites where you can do online shopping but do you have any idea on what the best websites are? No problem because in this article, we will be getting you the list of the best online shopping stores you can have a look at for purchasing gifts this Christmas.
Read: 5 Amazon Shopping Tips
Why would online shopping be better than the traditional way of shopping?
Other than the fact that you have more time to choose, it's also a good way of promoting ecommerce to other people. Its hassle-free and efficient way of transporting items from hundreds of kilometers away is good. In addition to that, it also saves you a lot of time from venturing through the daily traffic that everyone experiences.
So, if you have the time, run through these sites so you have an idea what the best online shopping stores are that you, and everyone else can utilize. So, here's what we've gathered for the best online shopping stores.
Shopee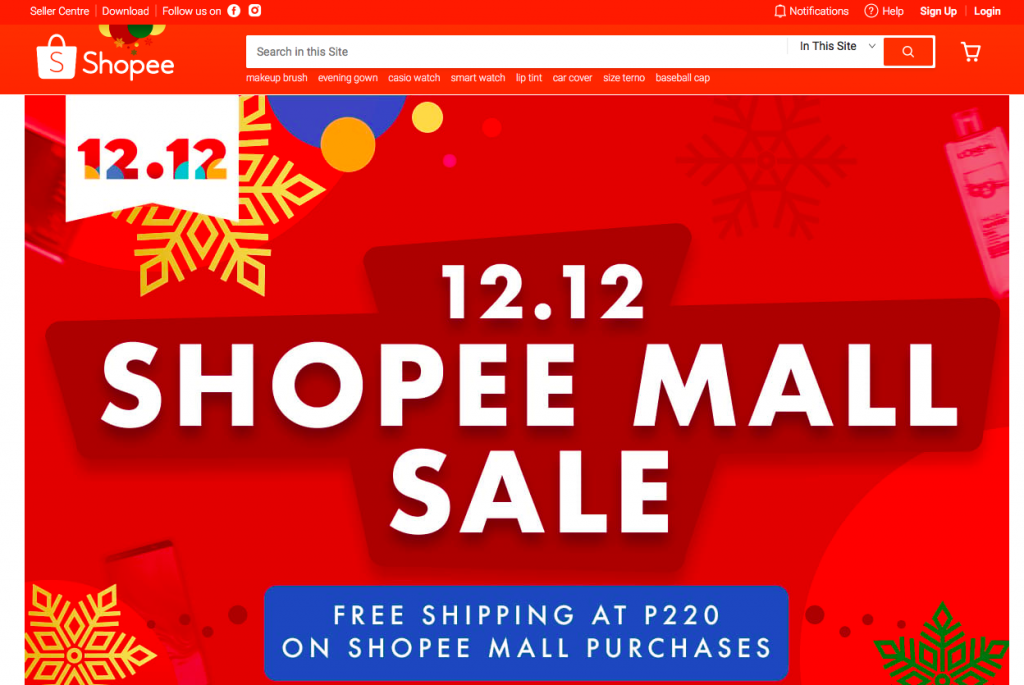 I'm sure that you've heard of the jingles and the newly released ads with the famous Jose Mari Chan in it. Shopee is currently standing as the country's top ecommerce platform for mobile phone users. Furthermore, they're also considered as the best here in Southeast Asia.
Although it comes after Lazada, Shopee is overtaking the market. Just like Lazada, it's one of the best online shopping stores not only because they're accessible, but because they have a wide variety of items they sell. There are multiple payment methods you can utilize in your own convenience:
Shopee Wallet
Cash on Delivery (CoD)
Globe GCash
Bills payment centers
Remittance centers
Online Banking: Metrobank, Landbank, RCBC, and BPI
Bank transfers: Metrobank, BPI, and BDO
Credit cards
Debit cards
Over the counter (OTC transactions): BDO, BPI, Metrobank, EastWest Bank, China Bank, RCBC, PNB, Land Bank, Security Bank, and UCPB
Their shipping methods are flexible as they offer pickup and door-to-door deliveries. In addition to that, they have different discounts which amount to 30% off for orders from P250.00 ti P499.00 and a P100.00 discount for purchases at a P500.00 minimum.
Read: ML ePay: Online Shopping Without Credit Card
Lazada

Lazada might be the pinnacle of ecommerce here in the Philippines since it's the first choice if you are to shop online. More so, during Christmas season and the holidays, they hold and have an extravagant year-end sale.
The digital marketplace of bargain items is famous for people who sell online, for people who are looking for trendy items and clothes, and for people who just live shopping. It's part of the best online shopping stores because they offer a wide range of products from clothes, to laptops, even appliances at very reasonable prices.
Unlike Shopee, their payment methods are quite conservative:
Lazada E-Wallet
PayPal
Cash on Delivery (CoD)
Debit cards (MasterCard, VISA, and JBC)
Credit cards (MasterCard, VISA, and JBC)
They also offer flexible ways of shipping; they can deliver door-to-door and pickups. The shipping fee, however, depends on the seller because some of them would remove the charge if you reach a certain threshold.
Read: Do You Want to Buy Amazon Products in the Philippines? Here's How
TeamManila Lifestyle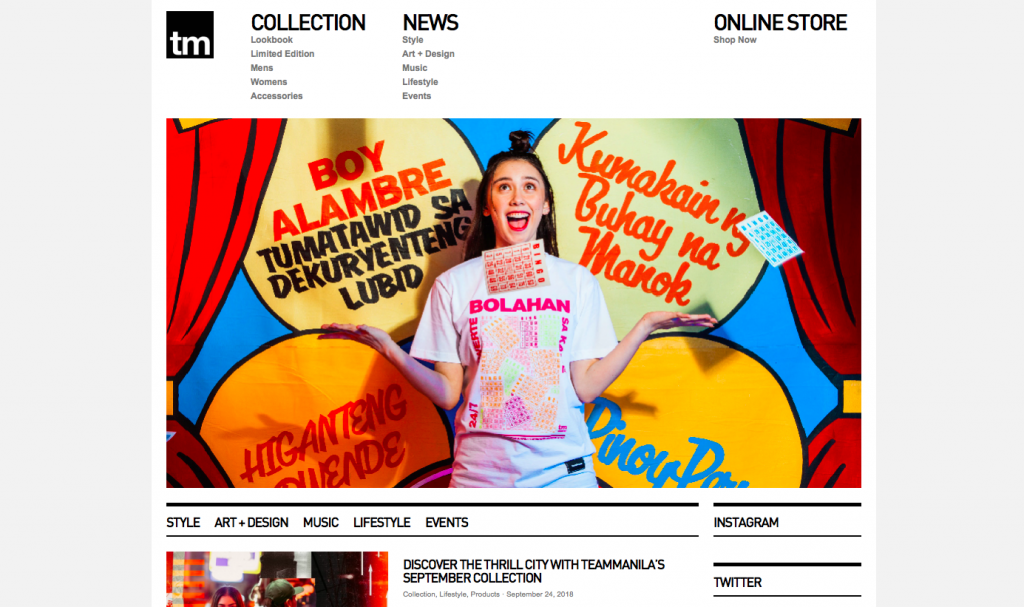 This is one of the lesser-known brands because their products are only apparel. However, it's part of the list of the best online shopping stores because of the fact that they're clearly Filipino-made and the designs are obviously Filipino.
They're also cheap! Their shirts start at P300.00 and you're sure that it's already of good quality.
Their modes of payment are:
BPI Bank deposit
PayPal
Credit cards
They will deliver your orders right at your door, don't need to pick it up elsewhere. However, there's a P100.00 shipping fee but that won't matter if you get the item you love, right?
Read: 50% Off on MEGA Shoes and Bags Like Converse, Smasonite, Keds and More on this Four-Day Sale!
Zalora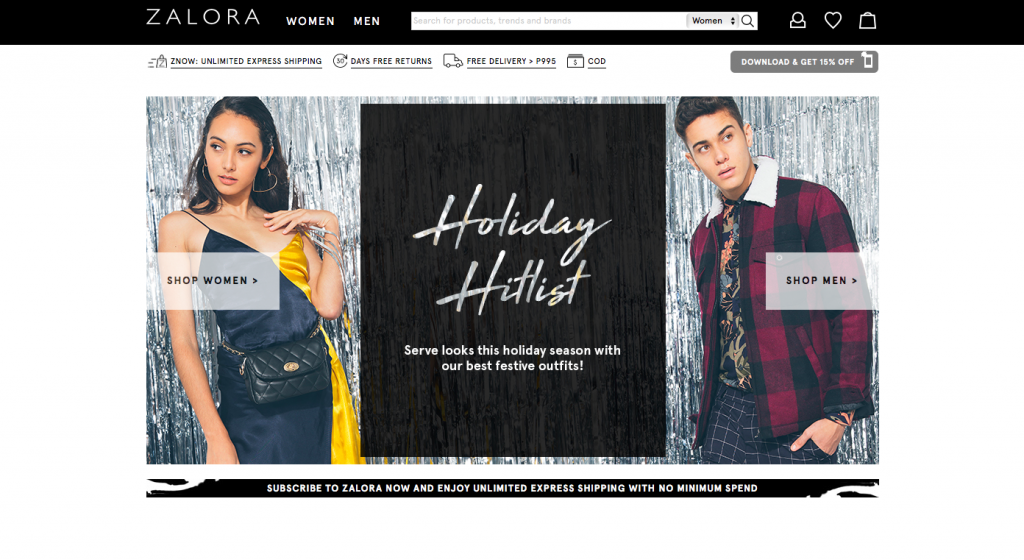 Zalora had its time before and it has earned the reputation of being the biggest fashion retailer here in the Southeast. Furthermore, it's actually considered as one of the best online shopping stores here in the country because of the quality of the apparel they offer. They sell from well-known brands like Converse, Levi's, Adidas, and many more.
They have an unlimited next-deliver service in the areas of Bulacan, Cavite, Laguna, Metro Mainla, and Pampanga and all you have to do is to pay the P500.00 annual fee. So, if you reside in any of these, you can take advantage of this.
Zalora has flexible payment options and as a promo, BDO, RCBC, and BPI cardholders can enjoy a 12% discount if they have a minimum purchase of P500.00. Other than that, their payment options include:
Cash on deliver
Wallet credit
E-gift cards
GCash
Paypal
Debit and credit cards (MasterCard or Visa)
They provide door-to-door delivery to both local and international locations. Moreover, they offer pickup services to selected 7-Eleven stores in Metro Manila. The shipping fee, just like Lazada, varies from seller to seller. However, purchases above P995.00 will make you eligible to not pay for it (if P995.00 are Zalora items).
Poundit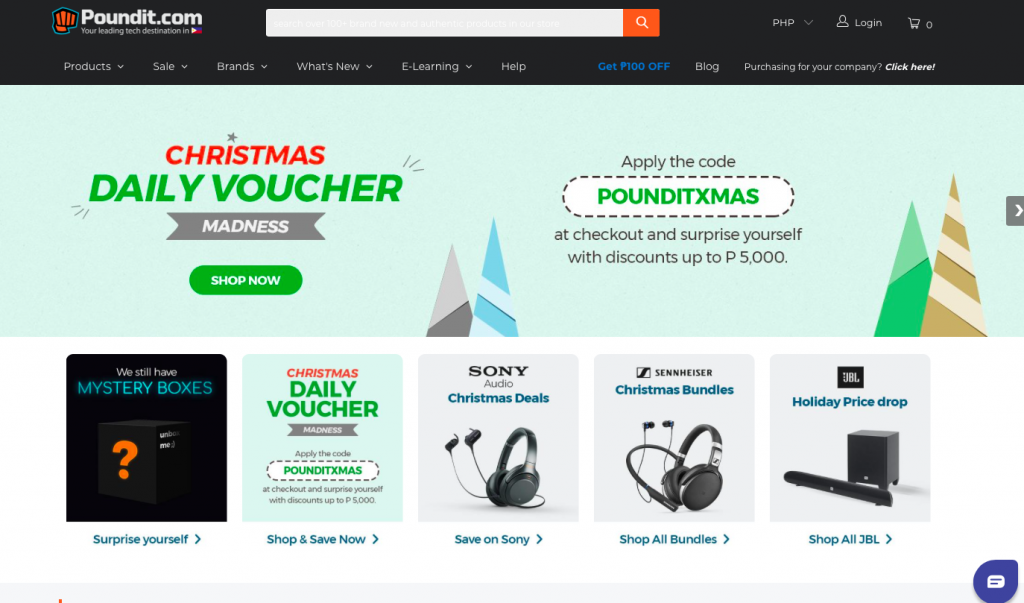 If you're looking for gadgets and technological devices, you can consider Poundit to be your main online marketplace. Formerly called YouPoundIt, they offer authentic smartphones, laptops, and cameras from quality brands like Samsung, Sony, Apple, Oppo, and many more at discounted prices.
You can purchase it for yourself or as a gift and they also offer mobile accessories as some sort of giveaways. They have different payment methods such as:
Bank deposits: PNB, UCPB, BDO
ATM bank transfers: Bancnet ATMs
Cash on delivery (CoD)
Bills payment
Remittance centers
Online banking: PNB, BDO, UCPB, and Unionbank
GCash
Credit cards
No need to worry because they have door-to-door deliveries and they deliver three (3) to five (5) business days for locations within Metro Manila and five (5) to seven (7) for provincial locations.
They have P99.00 shipping fees nationwide but they will waive that if the orders are above P990.00.
Read: Top Destinations to Spend Christmas Here in the Philippines
BeautyMNL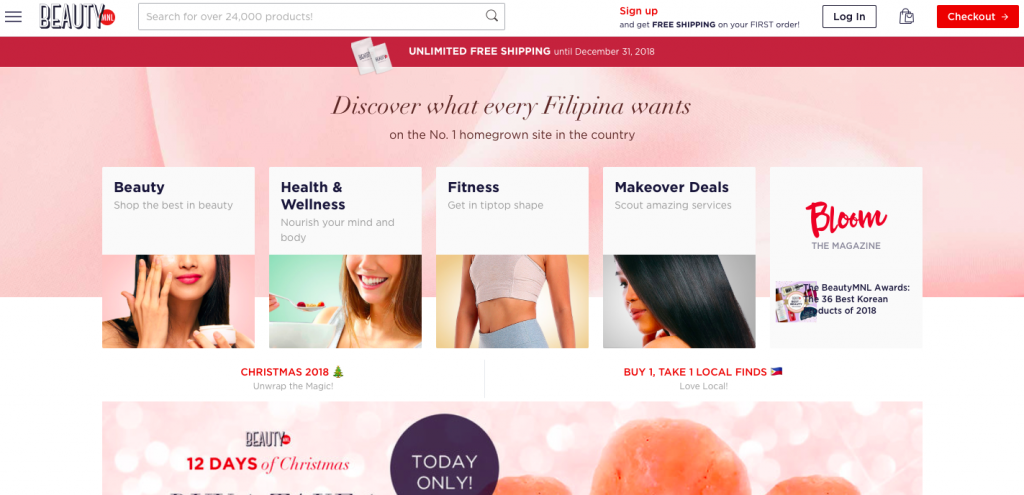 Since the rise of Korean products here in our country, beauty items are also on the run. Because of this, a lot of girls (even boys) have been in heat with beauty products and if we're talking about the best online shopping stores for make up, Beauty Manila is the key.
Currently, it is the best place to shop for skincare, hair care, cosmetics, fitness products, everything that revolves around beauty. The catch? There's no catch! They also sell the items at very low rates! They have flexible payment methods such as:
Paypal
Credit cards
Cash on Deliver (CoD) for Metro Manila and selected provinces only [maximum of P5, 000.00]
Over the counter, online banking, and bank transfers from BPI, BDO, and Metrobank
They offer delivery to your door and is usually sent to you within the next business day for Metro Manila locations. Outside, though, is five (5) to seven (7) business days. The shipping fee is a standard P50.00 per cart and they offer unlimited free shipping from the 7th of October to the 31st of December.
These sites are currently considered to be the best online shopping stores. Since it's the holidays, a lot of them have promotions and discounts they give customers who are looking to do binge-shopping online.
Haven't you tried online shopping yet? Are you interested or somehow curious in trying them? Give online shopping a try and see how convenient, fun, and addicting it is!