Do you need to verify your GCash account but you only have a student ID as of the moment? Worry no more because in this tutorial we will teach you how to get verified in GCash without using valid IDs, so you can enjoy all its features including cash-ins, fund transfers and withdrawals with no restrictions.
The first option for you to get verified is by filling out a short online form and then wait for GCash to manually verify and upgrade your account. This can take a few days to a few weeks to complete. Your alternative option is to go to the Villarica branch and have your student ID used for the verification process. Take note that your school ID must be current and not expired, and that your name and date of birth match the information on your student ID. Otherwise, your student ID may be denied and you will have to redo the verification process with a different ID.
Option 1: Submit a ticket
Unfortunately, you can't use your student ID for the GCash app's verification process because it's not in the suggested list of valid IDs for GCash verification. Instead, you can submit a ticket to GCash's support team, who will manually verify and upgrade your account. For your support ticket, make sure to attach a clear photo of your student ID.
Please note, however, that opening a support ticket does not guarantee that your GCash account will be verified. Although, some users effectively used this method to validate their GCash accounts, others have claimed the contrary. In the end, it is up to GCash to decide whether or not to validate your account.
To validate your GCash account using your student ID, follow this step-by-step procedure:
Step 1: On your desktop or mobile device, go to the GCash submit a request page.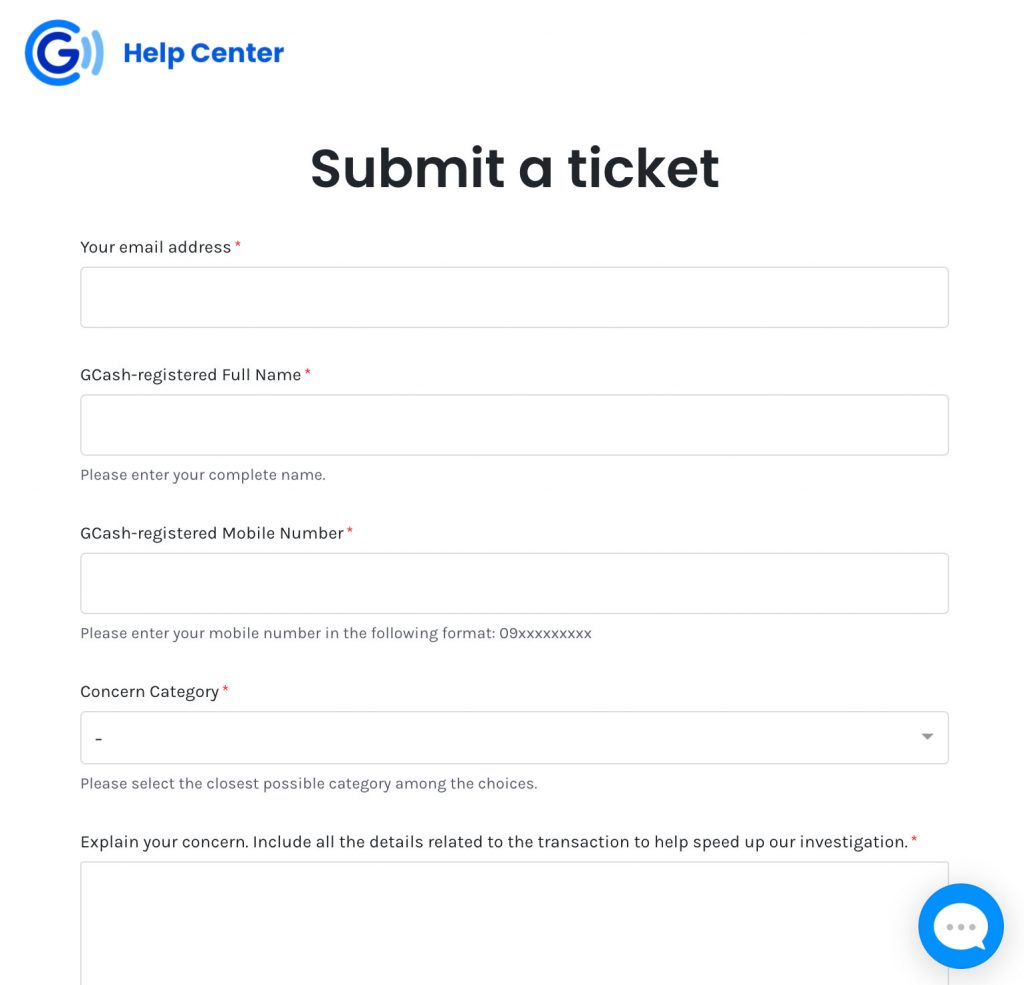 You can also open the GCash app, tap the Profile, and then select Help to submit a ticket. To access the support ticket form, tap "Submit a Ticket."
Step 2: Enter the following information into the support ticket form:
Your email address – Enter the email address that you used to register to GCash.
GCash-registered full name
GCash-registered mobile number – Enter the mobile number associated with your GCash account.
Concern category – Choose "Account Verification" and then "My valid ID is not on the list."
Explain your concern – You may write the following: "I would like to have my GCash account verified using my student ID. Thank you!"
ID submitted for verification – Select "Others."
Others – Write "Student ID."
Attachments – Upload a clear photo of your student ID.
After that, go over the form and double-check if everything is correct before clicking "Submit."
Step 3: Wait for GCash to send you a confirmation email. This email should not be deleted since it contains your ticket number, which you can use if you need to follow up on your support request.
On the GCash app, you can keep track of your ticket's status. To see your support tickets, simply hit the Profile button and select Help. Simply select a ticket and enter your request for a follow-up.
GCash usually responds to support requests between 1-3 business days. If you haven't received a response within three days, you can gently follow up by replying to the GCash app's support ticket. Also, you can follow up by replying to the confirmation email if you want to.
There is no certainty that your student ID will be used effectively to verify your GCash account, as previously stated. However, some users have had luck with this strategy, so it's worth a shot. Filling out a simple online form and uploading a photo of your ID, after all, just takes a few minutes.
Option 2: Go to a Villarica Pawnshop Branch
You can visit the local Villarica Pawnshop branch instead if you can't properly verify your GCash account by submitting a support ticket. Those who want to fill out the verification form with a different ID from the list of approved IDs should go to any Villarica branch.
To validate your GCash account at Villarica, follow these steps:
Visit a Villarica branch nearest you.
Tell the clerk that you wish to use your student ID to validate your GCash account.
Sign and complete the GCash verification form.
Bring your student or school ID and the verification form to the cashier.
As part of the "Know Your Customer" (KYC) process, have your photo and biometrics captured.
Wait for a text message from GCash notifying you of the progress of your application after claiming your student ID (this might take a few days to several weeks).
Again, there is no certainty that GCash will accept your student ID in this manner. Yet, it's definitely worth a try if there's a Villarica branch near you.
Read Also: