A few months back, Windows released a new operating system which followed the Windows 8.1 and is knows as Windows 10. Some users might get interested as to what this brand new operating system (OS) from Windows can offer; some may like it and some may not. If you are part of those who did not really enjoy the idea of having a "tablet-like" operating system on your computer, well in this article, you will be educated, guided, and lead to how you can downgrade your operating system from Windows 10 to 7 or 8.1.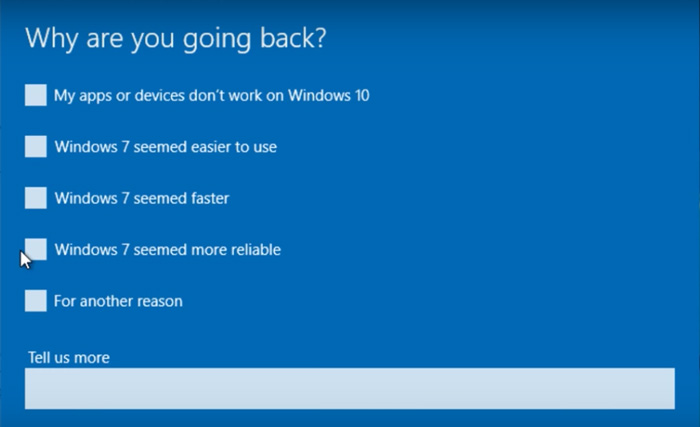 Go back to Windows 7 or Windows 8.1
If you've upgraded to Windows 10, just an upgrade and not a clean install, there should be an easy way to return to the operating system that clung with you from the moment that you bought your PC – the last version of Windows. You can see this option by clicking on Start Menu > Settings > click the "Update & Security" icon and select Recovery.
From there you should see an option that says "Go back to Windows 7" or "Go back to Windows 8.1". Select the button that says "Get started" to downgrade from Windows 10 to your previous Windows OS.
If the previous Windows OS has been deleted
After a month of upgrading to Windows 10, Windows automatically deletes the old Windows installation files to free up some space. Or if you have run the Disk Cleanup tool and removed the old Windows installation files (C:\Windows.old), you might need to do things carefully.
You need to access the Windows.old folder; you can find it in the File Explorer.
If you aren't given any options to restore your previous Windows OS
If you are not blessed enough to be given the right to go back to where you started, then chances are, you'll think you're doomed with running a tablet-looking OS on your pc. Thank God for new technology, find a computer that has either a legal Windows 7 or 8.1 OS in it, find an installer (from yourself, from friends, from family members, from the internet, etc.) and install it. You will need to have the product key in order to perform clean installation to download it legally and the right way.
You can buy installers with product keys and you can do a clean OS installation from there.
Why do people want to downgrade Windows 10?
Some people might not like the idea or the layout of the operating system.
If a program or an application is not running well, you might need to downgrade or re-upgrade (if you really want to keep the system)
Windows 7 is easier to use; although Windows 10 can offer a lot of things, it is slightly more complex.
Windows 10 will remain a free install in the first year so if you want to keep up with the trend, upgrade. But if you want to remain with the easier utilization, stick with what you know by heart and enjoy the easy and hassle-free features of Windows.