Today, many people are into the world of lending and investing. Because of the internet, people learn how they can invest by themselves. However, what most people fail to realize is that there are countless scams; there are fraudsters all around us and there's no sign of them slowing down. That being said, you need to check if a company is SEC-registered.
This is why checking if a company is legitimate is as important as learning how to invest. In fact, the former might have more weight. Don't worry because in this article, we will be teaching you how you can check if a company is SEC-registered.
Read: The Best and Effective Ways to Avoid Investment Scams
This way, you can be confident of your money; where it's going and how it's going to be used.
What is the SEC?
The SEC or the Securities and Exchange Commission (SEC) is a Philippine government-agency which deals with the securities industry. In simpler terms, this agency is the one responsible in the supervision and management of the capital market.
They manage as well as regulate issuances and securities' sales; they also handle investment instruments, and safekeeping of the investing public.
Read: The SEC Warns People on Paysbook E-Commerce System Co. Ltd
In the SEC, there's what we call a Primary SEC Registration and a Secondary License. We'll be discussing more about that for you to understand whether the company you're dealing with is legitimate or if they have the correct means to do so.
Terminologies:
Before we dive into that topic, here are a couple of terminologies "you might know." These are important because we will be dealing with these in the whole article. In fact, you might even feel the need to use it in your journey through investing.
Sole Proprietorship – also known as the sole trader, is a type of entrepreneurship that is individual. This type of entrepreneurship is owned and run by just one (1) person. Therefore, there's no legal distinction about the owner and business entity.
Partnership – Unlike sole proprietorship, partnerships are businesses owned by two or more individuals. These individuals combine their skills, capital, properties, and labor for gain of the business.
Corporation – A corporation is a company or group of people authorized to act as a single entity. It is defined by the SEC as a person created by operation of law and is duly registered with them.
Non-Stock Corporations – Non-stock corporations are corporations without authorized capital stock. Usually, these corporations are established and organized for religious, educational, charity, Scientific, and the like.
Stock Corporations – Stock corporations, on the other hand are corporations with an authorized capital stock duly divided into shares.
Certificate of Incorporation – This certificate is for the incorporation of both non-stock and stock corporations.
Certificate of Recording – For partnerships, the certificate of recording is needed to officially form them.
License to do Business in the Philippines – This license is to establish foreign branches or representative offices.
Read: How To Check And Distinguish Fake Facebook Pages From Legitimate Ones
Primary SEC Registration
As we mentioned above, there are two (2) types of registrations. The Primary SEC Registration is a type of license that allows a certain business to operate legally under the Corporation Code of the Philippines.
However, this does not give a certain company to engage in various types of business activities like selling of securities, lending, and investment contracts.
Secondary SEC License
The second (2nd) type of license or registration is the Secondary SEC Registration or Secondary License. This type of license is granted to corporations, even partnerships to engage in special and specific business activities like lending, brokerage or dealership of securities, as well as public fund investment solicitations.
Read: Where Can You Complain About a Specific Business?
But the secondary SEC license is not limited to that. To give you a more concrete example, here are the types of businesses that need a Secondary SEC License:
Lending Companies
Financing Companies
Stocks and Securities Exchanges
Investment Companies
Mutual Funds
Investment Houses
Transfer Agents
Universal Banks Registered as Underwriters of Securities
Clearing Agencies and as Depositories
Issuers of Registered Securities to the Public
Other corporations that may be required to secure a secondary license from the SEC to engage in various business activities.
What's the difference between the Primary and the Secondary License?
To put it simply, it's not just about knowing whether a company is SEC-registered. People need to know the difference so they're safe and they'll know whether a business is legal to operate like how they are or not.
Read: How to Register Your Business Name with the DTI
Having both
If a company has both (Primary and Secondary SEC), then they have no problem with lending, selling securities, or soliciting investments from the public. They have the papers and the legality to do so.
Having just a Primary SEC Registration
However, if a company only has a Primary SEC Registration and they're soliciting without a legal license, their operations might be up for legal questioning. Basically, securing a Primary SEC Registration to carry out their business purpose is not enough.
Of course, if a company neither has a Primary nor a Secondary type of license, it's very questionable. In our time now, NEVER put your money on something that's not legal in paper.
Read: How to Know the Legitimacy of Registered Companies in the Philippines
How do you verify and check if a company is SEC-registered?
So if you're caught in a situation where you want to make an investment, but you want to check if the company is legit or if they're legally operating, you can do so online.
Checking for a Primary SEC Registration
In checking if a corporation or company is SEC-registered, a Primary SEC Registration must be there. You can visit the Official SEC website and search for Registered Names if the official page not working you can try on SEC Express System. The companies and corporations listed here are the companies that have a Primary SEC Registration. So you know that they're legitimately a company.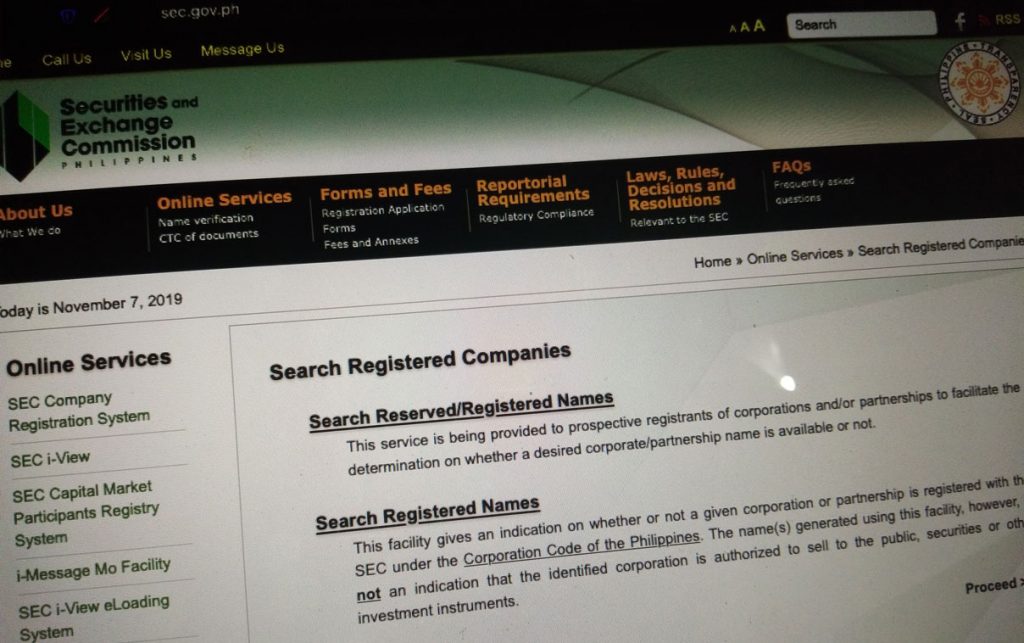 However, having a Primary SEC Registration, as we mentioned is not enough to support the fact that a company is authorized to sell investments and securities to the public.
Read: DTI Business Name Registration Online – Requirements and Procedure
Checking for a Secondary SEC License
This points us to checking whether a company has a Secondary SEC License. In checking, you can visit the Securities and Exchange Commission Capital Market Participants Registry System (CMPRS).
In this link, you can search for both the SEC Registration as well as the License information for both individual and institutional capital market participants registered.
Visit the office
If you want to physically visit the office of the Commission, you can do so by visiting this address:
Main Office
Secretariat Building, PICC Complex
Roxas Boulevard, Metro Manila
Alternatively, you can dial the SEC Company Registration and Monitoring Department at (8) 818-5554 or (8) 818-8803; locals 279, 284, 214, and 256.
Read: Investment Scams Online You Need to Watch Out For
With the information you know, you can now duly check whether a company is SEC-registered or not. However, that doesn't stop there. If you're trying to make investments, it's better for you to be sure; check if that company has a Secondary SEC License.
We're not affiliated with the SEC but, of course, it's better to be safe than sorry. Hopefully, with the information, you can be sure of the money you'll be shelling out for investments.