Fast food has been an integral part of the food industry here in the Philippines. A lot of these fast food chains are spread all over the country and their main goal is to provide food that are delivered fast and delicious. Having these in mind, we should already know that the prices would be in line with the promptness and quality of the food. So oftentimes, a lot of our countrymen just disregard and pass on because of its cost.
Especially if you live in the outskirts of cities, fast food chains would be located in everywhere you look. However since they're expensive, you might as well stick with canned goods and the good 'ole karinderya, right? But what if I tell you that you can eat there and save money at the same time?
After some thorough research and skimming through blogs, we decided to give you guys tips and techniques in terms of eating fast food. In this article, we will be showcasing how you can get the most out of your fast food in a very low price.
QUICK NOTE: All of these things are part of compilations we've seen online. We do not own these tips, credits can be found at the end of the article.
Jollibee hack
Jollibee is known to be the most famous fast food chain in the Philippines. Since it's a franchise from our country, it's just best to patronize its products. Not so long ago, we found a viral post that really struck us; more than skeptic than ever, I even tried going to a Jollibee store to see the prices.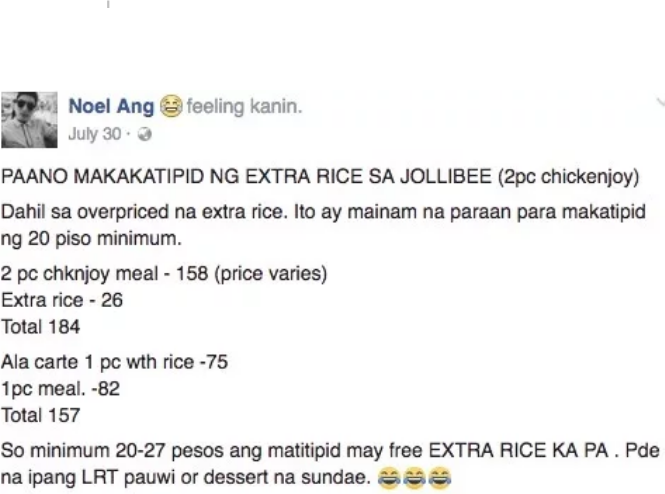 There, I found that the post is legitimate; it can really save you money. Although the money that you save is not hundreds or thousands, continually doing that will eventually save you money that you can use for other things.
Read: How to Order in Jollibee Online
What is the hack?
For this Jollibee hack, we have three (3) things to give you.
C3 or Jollibee Chicken w/ Spaghetti – Php115.00 +
Extra rice Php25.00
TOTAL = Php140.00
The total is Php140.00 which is not that expensive but you can still cut it down. Instead of ordering this, order:
C1 or 1-pc. chicken with rice meal which is Php83.00.
Ala carte spaghetti which is Php50.00.
In total, that is Php133.00.
SAVINGS:
Php7.00 cheaper than the C3. Not bad, right?
2-pc. chicken – Php155.00
Extra rice – Php25,00
TOTAL = Php180.00
So instead of ordering that, you can go and order:
Two (2) C1's or 1-pc chicken that is worth Php83.00.
Total would be Php166.00 and you have two (2) drinks.
If you just want one, then you can go and make the other 1-pc an ala carte one and that would total Php161.00.
SAVINGS:
Savings of Php19.00 for the one ala carte and Php14.00 with the drink. How cool is that?
Potato Corner hack
Oh who doesn't love flavory fries of Potato Corner? Surely, a lot of you won't even let one pass when you see a person shaking the powder to succumb those fries. But we all know that these fries are like golden and would somewhat make us think if we'd buy or not. However, learning this simple hack can give you savings of at Php30.00 every time.
If you look at Potato Corner's gram chart or price-per-gram, you will see that buying a Terra is not economical vs. buying Giga:
Please share to save a life ??? pic.twitter.com/hgfccNlH6Y

— Halamans Of Manila (@HalamansOfMnl) October 7, 2016
Dunkin' Donuts hack
We all love the tasty and delicious Choco Butternut of Dunkin' Donuts. Whether it'd be the donut one or the munchkins, it still has the same old taste. However, one person shared his experience and observation as regards Dunkin' Donuts and its prices/grams.
Justin, a concerned food citizen, shared his observation as regards buying the regular donut vs. buying munchkins.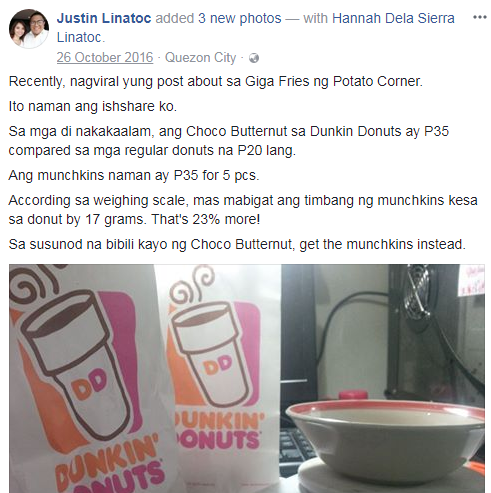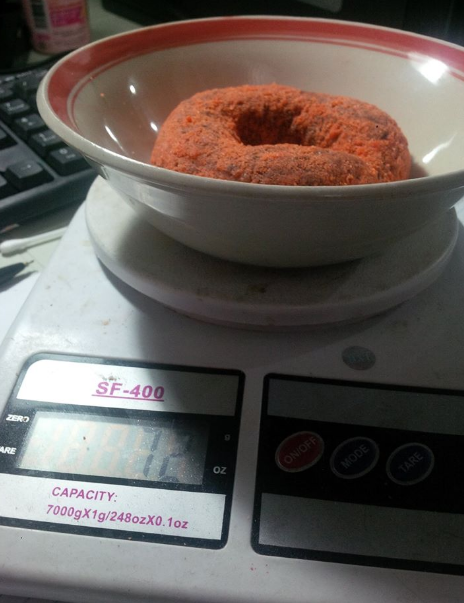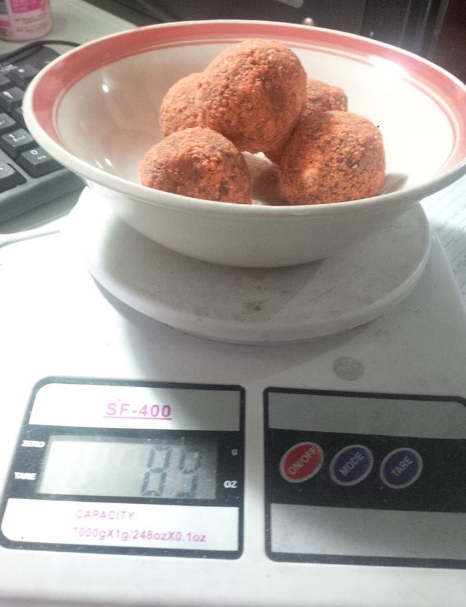 He even weighed the two to make sure that his observations are accurate. Although some munchkins are not the same size, you would still see essential differences between the regular donut which is Php35.00 and five munchkins for the same price!
KFC Streetwise Hack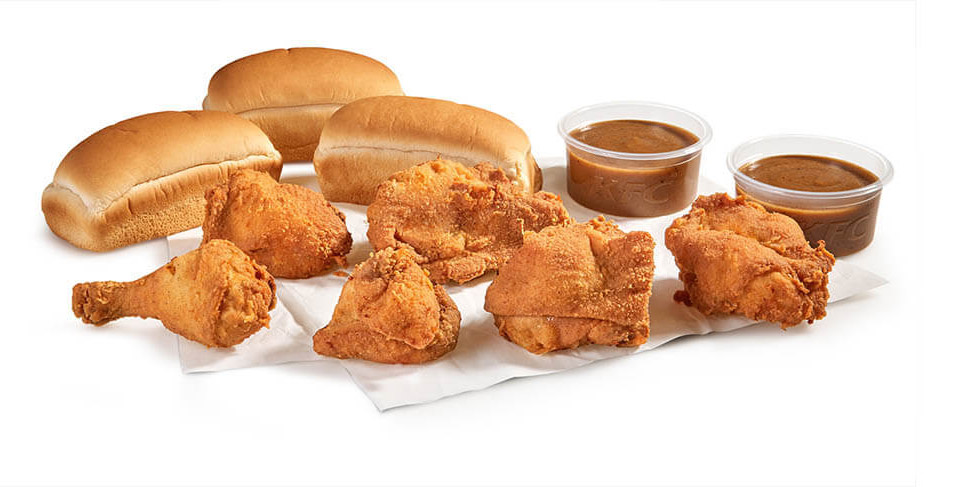 KFC is a real winner when it comes to parties and gatherings. Not only do they serve tremendous chicken and other variations, they also provide a good amount of gravy as well! But if you're having a party and you're thinking of ordering a chicken bucket, you better think twice between ordering one vs. multiple streetwise meals.
Want a computation?
Chicken of 15 (bucket) – Php900.00
6 pieces of streetwise – Php290.00 x 3 (Php870.00)
Chicken Barrel (21 pcs of chicken) – Php1, 245.00
6 pieces of streetwise – Php290.00 x 4 (Php1, 160.00)
What do you get?
If you can see, you'll be able to save Php30.00 by buying streetwise plus, you get plus three chickens more than the bucket. Moreover, buying a chicken barrel of 21 gives you three chickens less if you buy it instead of the streetwise. Plus, you save Php80.00 more.
McDonald's Coffee Hack
Are you fond of drinking coffee? Most people would prefer going to Starbucks since they're the major player in the coffee industry. What McDonald's is not telling you is that you can go come to them for a cheap, delicious, and aroma-filling coffee.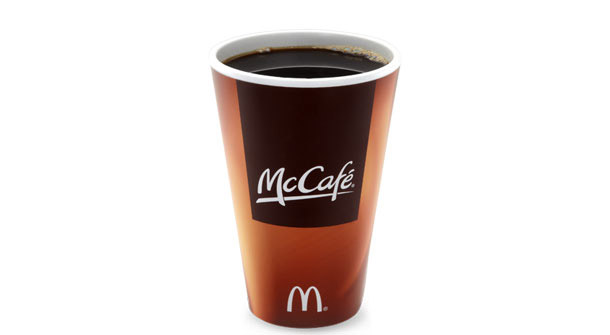 Buying coffee at McDonald's is priced at Php25.00. Getting the large one would be Php35.00. However, getting the large one earns you a free refill for the entire day. Yes, you read that right. If you buy the large coffee at McDonald's, you get a free refill for the entire day as long as you have the cup, receipt, and it's in the same branch. Even if you decide to leave the store, as long as you have all of these things, you get a free refill.
Read: How to Order your favorite meals in McDonald's Online
Burger King Hack
Are you a burger favorite? If yes, then BK is probably one of the fastfood chains you often visit. And when you hear BK what is the first thing that comes into mind? Whopper? Did I guess it correctly? If yes and if you're on cheat day, you're probably thinking of getting your hands to the Double Whopper solo, right?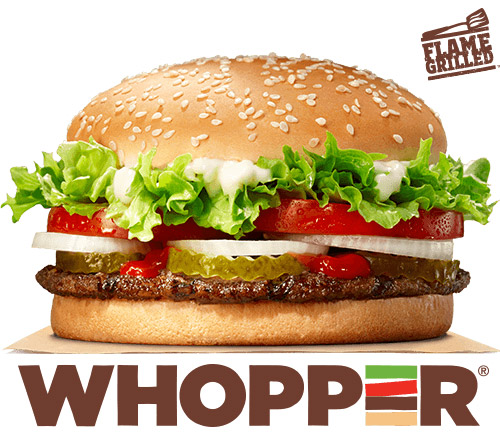 Instead of buying that Double Whopper, you can actually save if you buy two Whopper Jr. solos. Don't believe us?
One Double Whopper solo – Php210.00
Two Whopper Jr solos – Php100.00 x 2 = Php200.00
It does save you Php10.00 each meal. Furthermore, calorie-wise, you also get a cutting discount of 130 calories because the Double Whopper lets you consume 850 calories while two Whopper Jrs. only give you 720.
McDonald's Cheeseburger Hack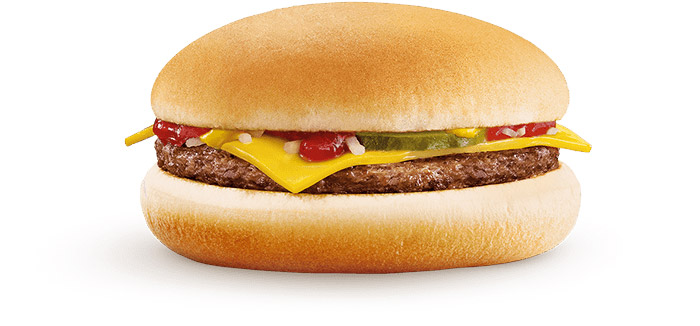 A lot of us know that there exists a cheeseburger and a double cheeseburger. Essentially, you would go with the latter if you're really hungry right? What's not commonly known is that you can actually buy two (2) cheeseburgers and actually get the same deal. The good thing about this is that you get to save Php22.00 and you get an extra pair of buns.
Jollibee Spaghetti Hack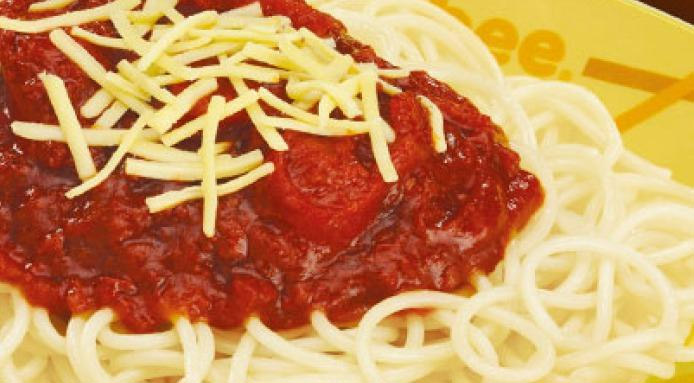 In addition to the spaghetti + 1 pc. chicken hack earlier, you can actually have another hack for Jollibee spaghetti. When you order, you can actually tell the counter to add a little bit more sauce and cheese on your spaghetti. As a matter of fact, this is unlimited.
Even if they're made for people with a tight pocket, you can still save. Not only does it save you money, but it can also cut down few of the unwanted things we don't want in these meals.
What are you waiting for? Spread this information to your friends and loved ones to save money and be healthy.
Sources: BuzzFeed, FHM, eCompareMo