A bank certificate is a statement from your bank that says you have this particular amount of money. To differentiate a bank certificate from a bank statement, the bank statement shows your statement of account in a certain period. It shows the debits and credits on your account. However, the certificate is just a piece of paper authorizing the amount of money you have. Although the statement is a bit more vast, the bank certificate is one major requirement for a tourist visa application. Why? Because it certifies that you have the financial capability to visit the country you wish.
So how do you get a bank certificate in Banco De Oro (BDO)? To start, BDO can provide a solution to this dilemma in acquiring bank certificates. You can use this for:
Read: How Can I View My BDO Savings Account Withdrawal History
Your visa application
When you plan to start a business or;
If you need to prove the funds that you have
Though for some, this might be hassle or even a big obstacle, it's actually easy.
So how do you get your bank certificate in BDO?
Step 1: First, you need to visit the BDO branch where you opened your account. This is essential because this is where your documents/credentials/papers are.
Step 2: Once you reach the branch, proceed to the teller and say that you are requesting for a bank certificate. After this, the bank will then give you a form that you need to fill out.The things you would need to put are:
Account Name
Account Number
Addressee (If it's for visa)
Address
Date To Be Certified;
You know, this would mostly include the details about why you are planning to get a bank certificate.
Ensure that all information is correct before submitting it to avoid corrections.
This would incur a fee of Php100.00
For the release of your certificate, BDO usually releases these the next day after your application.
Pasted below is a sample of this statement.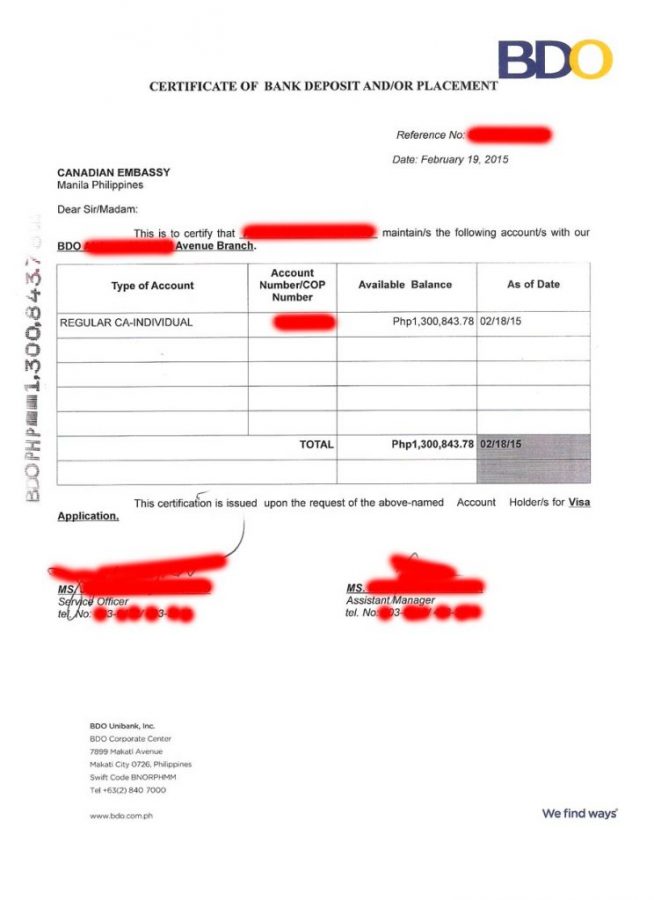 To be honest, it's pretty simple but straightforward. It shows what it's meant for without any hassle or misdirection. Agencies and companies who would be needing it would easily identify and distinguish it.
It would show where you want it to be addressed, the type of account, the amount in your account as of date, and relevant information that would aid you in your application/start-up. It is signed by both the BDO branch head and the Marketing Officer which is a clear indication that this is true. If you're planning to have this for a visa, embassies would usually prefer the original copies of bank certificates. You don't have to worry, though since you now know how easy it is to get a copy.